-= VTX1800R =-
I purchased this motorcycle new from a dealership in June of 2006. It was a brand new VTX1800R Spec 1 in Honda black. Shortly after purchasing it I came across a website ( Xchoppers.com ) that caters to the Honda VTX 1300/1800 bikes. With such a variety of aftermarket parts available it simpley could not be left stock.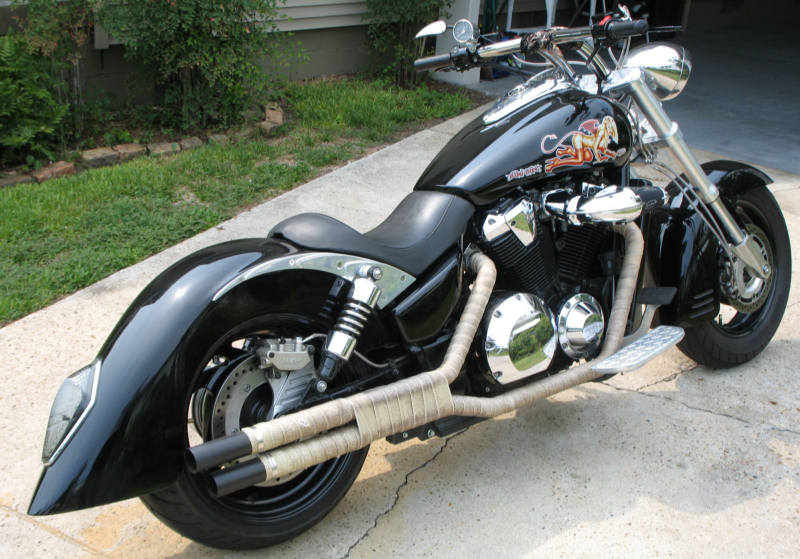 The VTX boasts a 109 cubic inch motor complete with all the good stuff. Fuel injected, water cooled, and shaft driven make it an excellent all around setup. Modifications to my bike include:
-Glacial Graphics (Sumo-X) retro 240 fender and solo seat
-modified factory rear wheel widened to 8.5" and both wheels powder coated black
-diamond plate floorboard plates
-Spiegler complete brake line setup
-11.5" shocks with 6 degree rake and 3" extended forks
-integrated LED brake/turn signal with smoke lense
-Vance and Hines "Bigshots" exhaust with modified baffles, wrapped, and painted
-painted gloss black engine
-MTC clutch and springs
-Dynojet PCMIII USB
-tachometer
-Cruiser Performance T-Bars
-headlight extended 4" outward
-braided steel clutch, brake, and throttle cables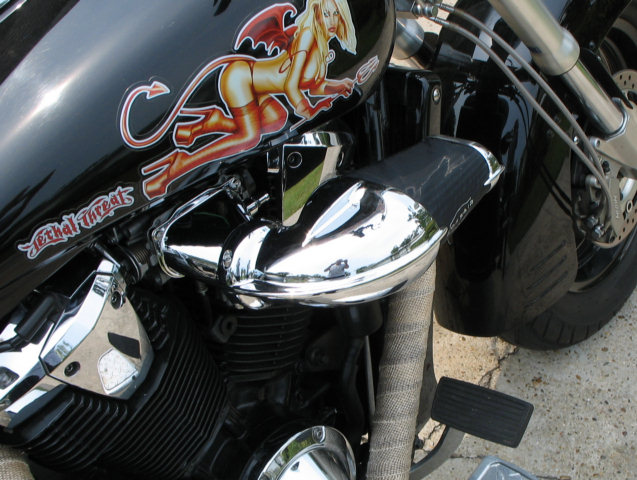 Currently, I have a Kuryakyn Corsair intake on the bike. I have two others, a K&N open filter intake and a Thunder Mfg. round style intake.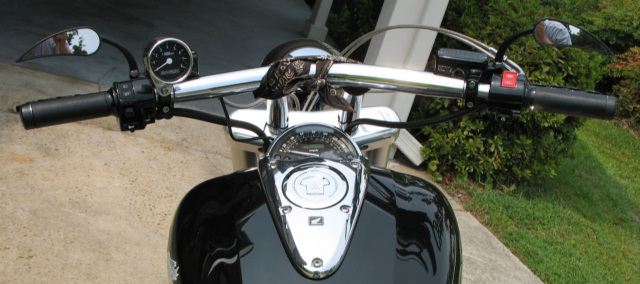 Arlen Ness mirrors mounted on stock reservoirs (powder coated black) and the tach.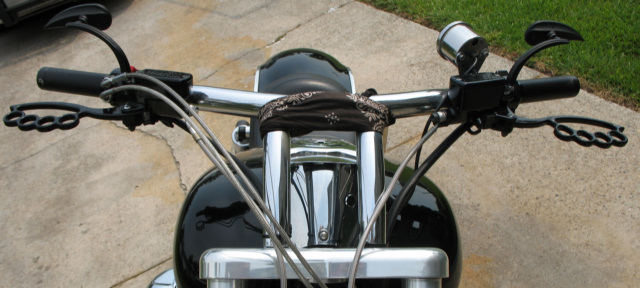 Brass knuckle shift levers also powder coated black.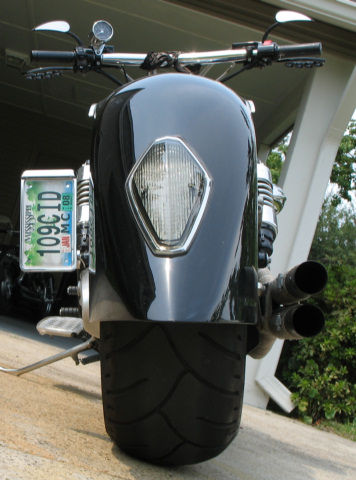 A nice Dunlop 240 tire crammed under the fender.
I sold the VTX in June of 2009. It had been changed quite a bit since the previous pictures here were taken. Due to an unrecoverable hard drive crash most of them were lost. These are two of the last pictures I have taken a few weeks before it was sold.
I had changed a lot on the bike since 2008. The rear fender was changed to one I cut myself. The front fender was cut one or two inches in the front and two or three in the back. The Progressive Suspension springs were replaced with Kewl Metal "Bleed Feed" air ride. The intake was changed to a Thunder Mfg. round style.
I had replaced the grips with chrome grips.
The forks, headlight, and all other sheet metal were repainted gloss black. I used four stripes down the center of the fenders and tank.