2008 Malibu Motorcycle Works
"Super Sled"
I had been watching the prices of parts for custom bikes for a while. After a good bit of research I decided to build one. I checked many sites but for the price you couldn't beat Malibu Motorcycle Works. Lorna and I flew out to Thousand Oaks, CA where we met with the owner and looked over his bikes. After a couple of days we decided to go with a "Super Sled" design.
The "Super Sled" has extra stretch in the lower frame making the bike (from rubber to rubber) 9'10" in total length. The oil bag sits underneath the transmission instead of under the seat. I also chose to upgrade to a set of American Suspension forks with the built in caliper/brake line.
This is the bike as of June of 2009. It has some sheet metal work done. The tank is mounted, the seat pan is made and side covers are mocked up. The engine in the frame is a Revtech 125 cubic inch engine. I just ordered (awaiting arrival) a BDL lock-up primary and a Trik Shift RSD 6-speed to finish mocking up the driveline.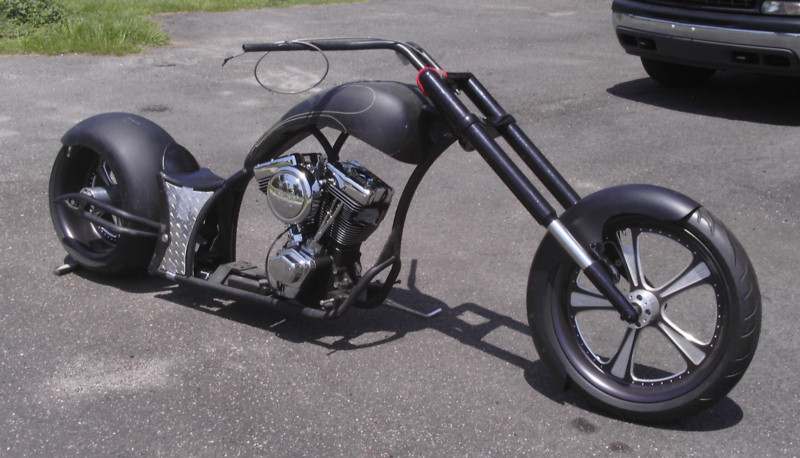 As of August 2009 I have mocked up some of the drivetrain. Also, the front fender had been mounted and the top center motor mount has been cut and moved to the correct location. The top center mount was 9/16" off center to the front.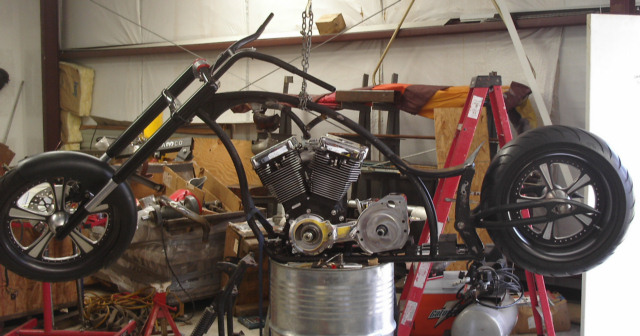 The TrikShift RSD 6 speed transmission is installed with the 3" BDL "lock-up" primary. I still need a few more parts before I can finalize the drivetrain mock up.