-= 2002 CBR600F4I =-
I purchased this bike in August of 2007 from a good friend of mine who is also a police officer. This bike was babied it's whole life. When I bought it there was only 6000 miles on it. My friend had a folder with every dime ever spent on the bike and every time it was worked on.
August of 2007, before being hit in a Chili's parking lot. Current pic below.......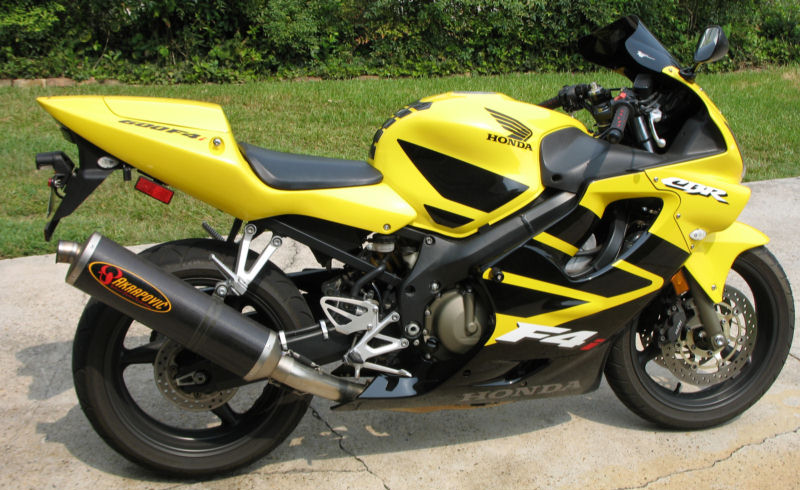 When I purchased it my friend already had the Akrapovic full exhaust installed. It's a complete exhaust from header to can. Also he had purchased a rear seat cover to replace the seat and give the bike a solo look. Also he had purchased an aftermarket tinted windshield of some kind. Modifications include:
-Akrapovic full header to can exhaust
-Power Commander w/ F4I wiring harness
-Vortex sprockets (-1 front/+2 rear)
-Speedohealer (www.Speedohealer.com) to correct speedometer
-Barnett clutch and springs
-flush mount LED turn signals
-tinted windshield
-frame sliders
-lowering brackets (lowered 1 inch)
-white face tachometer cover
-solo seat/rear seat cover
-switch to turn the radiator fan on manually (comes on itself at 226 degrees, too hot for me)
-tank protector
-grips
-PAIR system removed w/ cover plates
-all reflectors removed
-smoke tinted LED taillight
-exhaust hanger/passenger pegs removed
-aftermarket shift and brake levers, powdercoated black
-aftermarket clutch and brake hand levers, powdercoated black
-aftermarket foot pegs, powdercoated black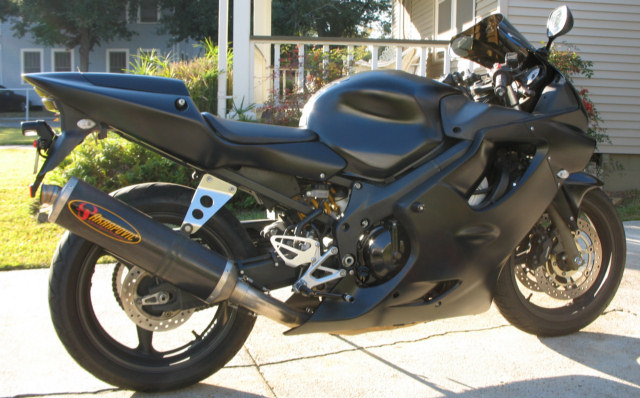 After the bike was hit in a Chili's parking lot in Hattiesburg, MS I had it painted. "Chasis black" automotive chasis paint is what we used. I actually came out rather nice. The chasis paint has a slight texture to it and uses no clear coat. I painted the engine side covers black to match up. Now if I could only get rid of that nasty yellow spring on the rear shock......